Shichahai Sub-District's Old Residents Enjoy "Vegetables Package" Delivery Service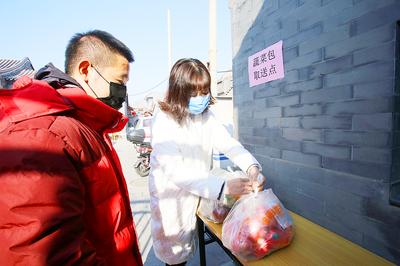 Xicheng District's Shichahai Sub-district has set up a special logistics support team to guarantee the supply of life necessaries during this special period of epidemic prevention and control. Shichahai Sub-district Citizen Service Center cooperates with relevant service providers to offer "vegetables package" and "free vegetables package" delivery service. The service covers all 22 communities of Shichahai Sub-district, and is mainly targeted at elderly empty nester, poor elderly people and disabled elderly people living in the sub-district, so that they can have fresh vegetables without going out.
Shichahai Sub-district has delivered the "vegetables packages" to 39 households since January 27, and presented free "vegetables packages" to 15 poor or disabled elderly people. It is worth mentioning that the "vegetables package" included fruit, egg and milk from January 31.
In addition, Shichahai Sub-district Citizen Service Center organized 13 living service companies that are still open for business to actively carry out disinfection and sterilization, providing consumers with a safe shopping environment. At present, the 13 living service companies open as usual with basically sufficient goods for residents to buy.