High Time to Enjoy Winter Fun in Beihai Park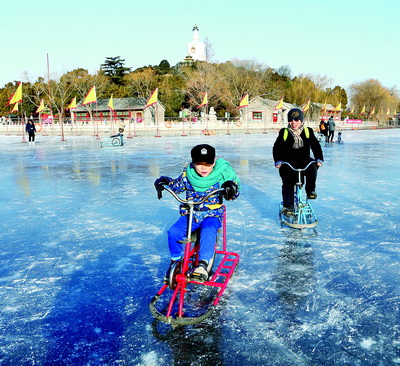 Beihai Park, reputed as the "Winter Palace", opened its ice rink recently. It used to be the place where the imperial "ice show" was staged, and is now the place where tourists can enjoy winter fun. In order to meet various needs of tourists for entertainments on the ice, the ice rink is equipped with a variety of ice facilities. After buying an admission ticket, tourists can enjoy all the ice facilities except the ice bumper car, without time limit as long as the ice rink opens.
Beihai Park will present the imperial "ice show" from January 13 to 17 to reproduce the traditional winter activity on the ice of the imperial garden. Tourists will have a deeper understanding of the traditional Chinese culture, the imperial garden culture and the winter culture.
In addition, 10 pieces of display boards are set up near the ice rink, in order to popularize the knowledge of Winter Olympic Games as well as the ice and snow culture to the public. So the tourists can not only enjoy the fun of ice and snow, but also learn related knowledge.