Renovated Shichahai Sub-District Library Reopens with 30000 Books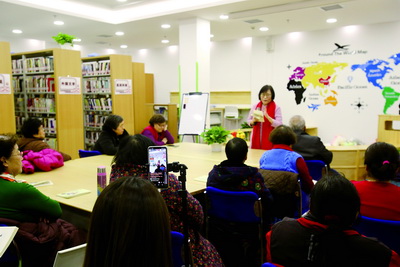 After renovation, Shichahai Sub-district Library reopened its door recently. It's located on the ground floor of the Shichahai Sub-district Citizen Service Center at No. 11 Liuhai Hutong, Xicheng District. The first activity after the reopening of the library is a Chinese culture experience activity, attracting more than 30 residents from Xinghua Community and Songshu Community to take part in.
Shichahai Sub-district Library was established on July 15, 2006, and has been awarded the Beijing Excellent Sub-district-level Library for 10 consecutive years. Shichahai Sub-district renovated the library in 2019. The renovated library has a construction area of 200 square meters. There are more than 30000 books in the library, including nearly 500 children's picture books, and more than 30 kinds of periodicals. The library adopts the open-shelf system. There are the reading area for children, reading area for adult, electronic reading room, book borrowing service area, and book retrieval area.
Shichahai Sub-district will hold various reader activities in the library, such as new book recommendation activity, reading salon, and public lecture. The library is expected to be built into a good place for residents to read, study, and relax, so as to enrich the cultural life of local residents.