Xicheng District to Build 5 Bookstores in 2020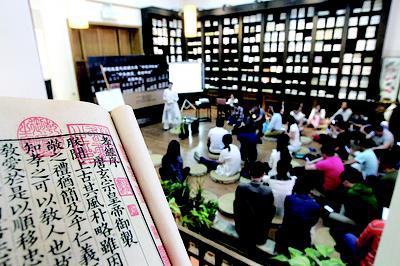 A special reading space holds a reading.
Xicheng District plans to build five bookstores in 2020, the reporter learned from the second press conference of Xicheng District's "two sessions" recently. And the district will complete the construction of some reading places, so that there will be three to five reading spaces or reading stations in each sub-district of Xicheng District. Meanwhile, Xicheng District will promote the construction of 24-hour bookstores, 24-hour special reading spaces, and 24-hour city studies.
In 2020, Xicheng District will continue to improve services of reading spaces and bookstores. Celebrities, writers, and professionals from all walks of life will be invited to participate in reading activities. All the public libraries and special reading spaces in Xicheng District will be open on weekends in 2020, public libraries will continue to extend opening hours, and social institutions and schools will be encouraged to open their reading facilities. Xicheng District will take measures to improve digital reading services of public libraries and public reading spaces, such as increasing self-service book lending machines, self-service book vending machines, and cloud reading machines. Xicheng District will also build volunteer service demonstration stations in public reading spaces.
Xicheng District will hold a reading launch ceremony, a large-scale reading event, and an international reading expo in 2020, and will feature special reading events such as New Year reading ceremony, begonia poetry gathering, and Beijing Children's Reading Week. Xicheng District's public libraries at all levels as well as special reading spaces plan to hold about 4000 reading activities in this year.