Center Island in Back Lake of Beijing Exhibition Center Built After Meticulous Water Governance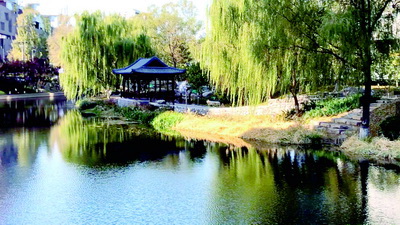 The back lake of Beijing Exhibition Center is about to become nearby residents' rear garden, marking Zhanlanlu Sub-district's achievements of meticulous water governance.
The rectification action of the environment around the lake was launched in November, 2018. Debao Community, where the lake lies in, has joined hands with Zhanlanlu Sub-district's several departments to enforce the law. Illegal constructions of 1000 square meters along the south bank and west bank of the back lake has been demolished, and green landscape of more than 6000 square meters has been built along the lake as well as in the center island.
Although the Minor Snow (the 20th solar term of the year) has already arrived, greenery still remains in the about-to-open center island. By now, wooden terrace, gazebo, fountain, and sports field have been set up, and irises and lawns have been planted. Original trees there are kept, and Chinese scholar trees and persimmon trees have been newly planted. More flowers and plants will be planted in the early spring next year, and then the island will become more beautiful.