Xicheng District 17th Citizen Learning Week Kicked off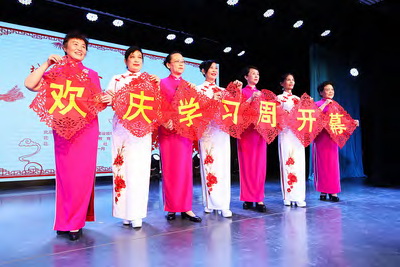 The opening ceremony of Xicheng District 17th Citizen Learning Week was held at Xicheng District Culture Center on November 20.
Xicheng District had made continuous efforts to seek lifelong education providers and make full use of regional learning resources, in order to meet citizens' ever-growing needs for learning. Up to now, 72 social units has joined in the lifelong learning service system, providing residents with more abundant choices and more professional services.
An achievement exhibition of special programs of Xicheng District Citizen Lifelong Learning Service Base also kicked off on the day of the opening ceremony. Colored sand paintings with patterns outlined with wire by Zhanlanlu Community Education School, ancient book binding by Chunshu-Dashilan Community Education School and other items are displayed in the exhibition. Interactive experiencing activity and DIY activity bring special learning experience to visitors.
More than 40 learning activities which are close to people's life and meet the needs of development, such as experiencing lesson, training lecture, learning achievement demonstration and exhibition performance, will be held during the learning week. The event will build a broad platform for citizens to participate in lifelong learning and show their learning results, and meet people's needs for diversified learning and a better life.