Xicheng District Held Exhibition of Craftswoman's Work to Help Women Shake off Poverty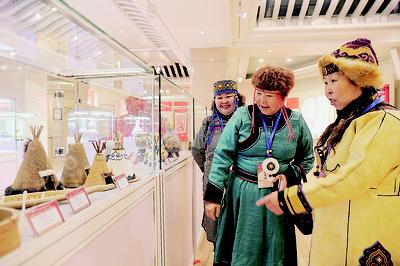 Xicheng District Women's Federation launched an exhibition of craftswoman's work at the Huafang Art Center on November 18th. Nearly 80 representatives from Xicheng District and Mentougou District of Beijing Municipality, Fuping County of Hebei Province, Elunchun Autonomous Qi and Kalaqin Qi of the Inner Mongolia Autonomous Region, and Nangqian County of Qinghai Province attended the launching ceremony of the exhibition.
More than 400 exhibits on display at the launching ceremony presented regional and cultural features, many of which were national-level intangible cultural heritage. Maohou from Beijing, cloth shoes with thick soles from Fuping County, wood carvings from Kalaqin Qi, paintings inlaid with birch bark from Elunchun Autonomous Qi, and Tibetan incense from Nangqian County enchanted visitors.
Xicheng District Women's Federation has implemented the guiding strategy of precise poverty alleviation in recent years. It has created an online and offline sale model, and picked three businesses in Xicheng District as retail stores selling craftswoman's work.
The exhibition also offered a study and exchange platform for craftswomen, a relevant person in charge of Xicheng District Women's Federation said. And they will open training courses in the future. Craftswomen from various places will be invited to study and exchange their skills in Xicheng District's craftswoman studio, so as to improve their comprehensive quality and the design concept of their works.
The exhibition will last for 7 days.