A New Look of Shichahai's Lotus Market after Renovation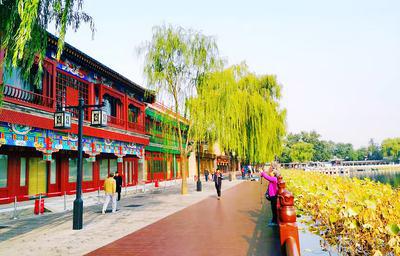 After more than a year of renovation, the Lotus Market, on the west bank of Shichahai Lake, has recently taken on a new look. As it's high tourist season in Beijing now, many tourists amble in the Lotus Market to enjoy the beauty and tranquility of this century-old street and experience the original old Beijing style.
After renovation, the facade of each commercial building has a different style, such as antique architectural style, and architectural style of the time of the Republic of China (1912-1949). Some buildings have been painted in ochre yellow, presenting a style of ancient Chinese architecture. Roads have been re-paved. Electric power, sewage and street lamp manhole covers are engraved with beautiful lotus pattern.
The night lighting of the whole commercial street has been launched. The Lotus Market is brightly lit in the evening, along with all kinds of lights of the restaurants and bars located along the Qianhai Lake, as well as the night lighting of the Drum Tower standing on the north side of the Qianhai Lake, adding charm to the night of Shichahai.