Baizhifang Sub-District Held 9th Family Culture Festival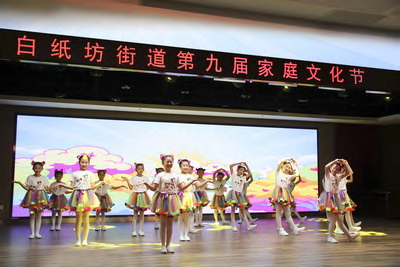 The closing ceremony of three-month Baizhifang Sub-district's 9th Family Culture Festival cum the award ceremony of the "Happy Family" selection event was held at the auditorium of Baizhifang Sub-district recently. 18 families received the honor of "Happy Family", and two representatives shared their family stories.
This session of festival started from July this year, with the theme of "Harmonious Families Make Country Prosperous". A series of activities, such as Baizhifang family carnival, promotion campaign of traditional Chinese culture, science popularization activity for the youth, and promotion campaign of health exercises for the elderly, benefit local children, young people, middle-aged people, elderly people, families and employees, carry forward good family traditions, and promote healthy lifestyle.
Baizhifang family carnival contained two sessions. More than 100 booths were set up and more than 1000 residents participated in. Youngsters sold their unused things and donated their income from the sale to impoverished families in Baizhifang.
During the festival, residents also took part in healthy lifestyle-themed activities, such as health literacy promotion campaign, aerobics, and fitness walk. Moreover, professional teachers of the National Centre for the Performing Arts provided guidance for art lovers on singing, dancing, Chinese opera, and play, to satisfy residents' need for high culture.
As Baizhifang Sub-district's brand event, the family culture festival has been held in nine consecutive years.