Yuetan Sub-District Selects 60 Families as Pilots to Conduct Suitable-for-the-Aged Renovation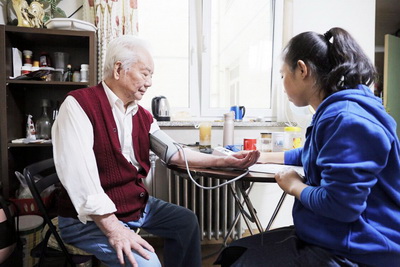 Yuetan Sud-district of Xicheng District pushes ahead with family-based senior care services. It selected 60 families in Qibei, Qinan, Zhenwumiao, Muxidi and Baiyunguan communities as pilots recently to conduct suitable-for-the-aged renovation on family-based senior care beds.
Senior care services institutions use modern information technology and care service management model to provide professional care services such as life care, safety assistance and health management for old people who are aged, live alone, have dementia, or don't have self-care ability, so that they can enjoy comprehensive senior care services at home in accord with service standards and management model of senior care services institutions. At present, this kind of senior care model has begun to be carried out in Xicheng District. As one of the pilot sub-districts, Yuetan Sub-district is actively promoting it.
The renovation of the home environment of the pilot families features nearly 100 kinds of choices such as assistive devices for seniors, intelligent products for seniors, and furniture for seniors. Meanwhile, Yuetan Sub-district's community senior care center will provide 24-hour health management and remote monitoring services for family-based senior care beds, so that they can know health condition of care recipients in real time. According to health assessment report, they provide seven types of services, including care management, life care, professional care, safety assistance, medical care, health management, and family-based senior care workers, with a cumulative service duration of no less than 30 hours per month.
Xicheng District officially launched the "family-based senior care beds" pilot project in May this year, as it's listed among the second batch of pilot areas providing home-based and community-based senior care services, which is financially supported by the central government.