Beijing-Style Pocket Park Newly Built in Shichahai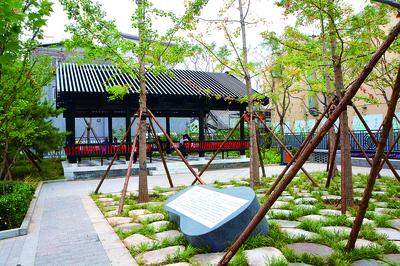 Shichahai Sub-district's Ping'anli Park opened its doors to visitors recently, marking a new pocket park built in the Shichahai area.
The park at the northeast corner of Ping'an intersection covers a area of about 1093 square meters. It is designed in a classical Chinese garden style, and features the culture of old granary and the culture of prince's residence which once existed in the Ping'anli area. Ginkgo trees and pomegranate trees are planted in the park, which are typical trees in Beijing's yards in old times. A Chinese style pavilion is also built for people to have a rest.
With the opening of Ping'anli pocket park, there are five pocket parks with a total area of 5000 square meters in Shichahai Sub-district. A "greet belt" has been built along the Ping'an Avenue.
It's worth mentioning that although those pocket parks are small, they're changing people's lifestyle. Residents can see the green through their windows and go to park on their doorstep. They can go out and play chess, walk, exercise, rest and get together in parks.
A person in charge of the sub-district said that they would continue to build more mini green spaces. Meanwhile, they will set up flower boxes, flower beds and flower stands, and encourage community residents to adopt and care for them, improving environmental quality of the entire area together.