Xicheng District's Parks in Festive Atmosphere during National Day Holiday
Xicheng District held "Celebrating the National Day, Striving for Realizing the Chinese Dream" theme park celebrations on October 1st and 2nd, to celebrate the 70th anniversary of the founding of the People's Republic of China. Parks in Xicheng District have held various theme celebrations and exhibitions to tell stories about the development of China, attracting a great number of tourists to visit.
During the National Day holiday, 12 key scenic areas of Xicheng District have received 2.793 million tourists, producing tourism revenues of 35.5645 million yuan. The top three scenic areas receiving most visitors are Shichahai scenic area, Beihai Park, and Beijing Zoo. The top three scenic areas realizing most revenues are Beijing Aquarium, Beijing Zoo, and Beihai Park.
As a famous park featuring historical culture, Taoranting Park displayed time-honored brands and modern emerging brands to show the vitalization of Chinese brands and pass down traditional Chinese culture. In terms of landscape, the park was decorated with the theme of "Happy Life". Nearly 400000 flowers were planted or placed in the park, with a decoration area of more than 3700 square meters.
Beihai Park's exhibition featured Beijing's history and culture, displaying the capital's changes and achievements in "Ancient Capital Culture", "Hutong Culture" and "Ancient Buildings Culture" three parts. In terms of landscape, five theme flower beds and 4 flower garden borders were set up in the park, as well as 1200 lanterns, 290 colored flags, 220 lamppost flags and 120 road flags were hung up, creating a festive atmosphere.
The Grand View Garden was a world of red. Theme flower beds, performances, intangible cultural heritage demonstration activity, and sports activity allowed visitors feel the happy atmosphere of national celebration. 3 theme flower beds, along with blooming flowers all over the park, created a distinctive landscape.
Citizens took pictures of wonderful fireworks show.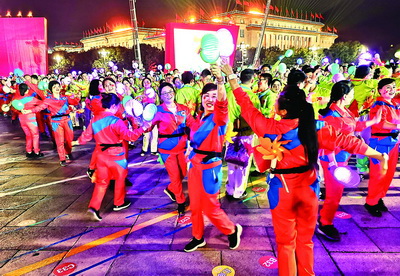 Xicheng District's residents took part in the grand evening gala marking the 70th founding anniversary of the People's Republic of China.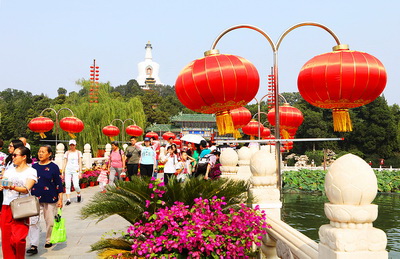 Beihai Park in festive atmosphere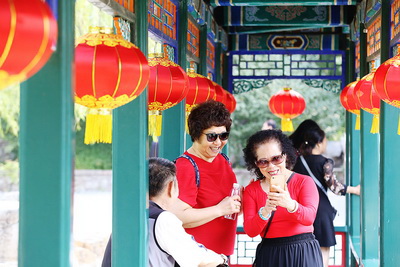 Tourists took photos to record happy moments.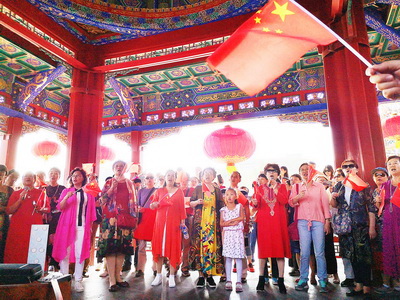 Citizens sang songs to celebrate motherland's birthday.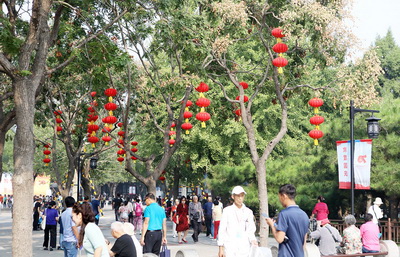 Taoranting Park attracts many tourists.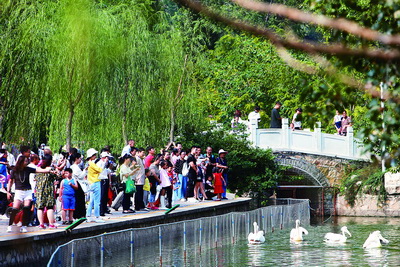 Thousands of people crowded Beijing Zoo.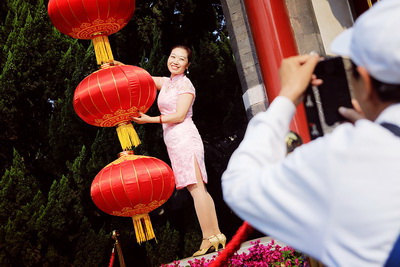 A tourist posed for photos with red lanterns.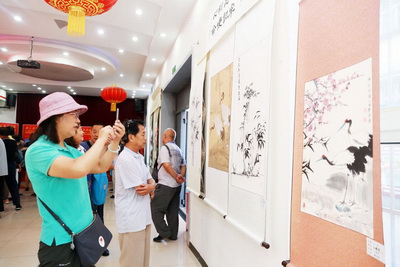 Guang'anmennei Sub-district held "My People, My Country" painting and calligraphy exhibition during the holiday.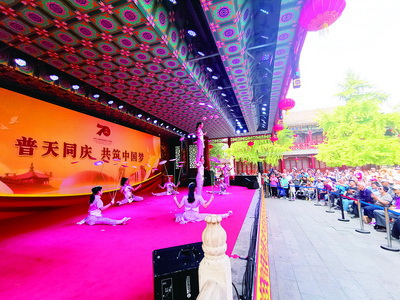 Theme performance was held at the Grand View Garden.