Urban Forest in Xidan Cultural Square Unveiled before Oct. 1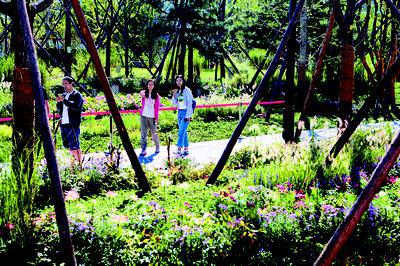 Xidan Cultural Square, located in the east of Xidan intersection and north of Chang'an Avenue, will be renovated into an urban forest with an area of more than 6000 square meters before the National Day, October 1st, the reporter learned from Xicheng District Bureau of Forestry and Parks. It will be an organic and natural green space with different scenery in four seasons, and become another city landmark along Chang'an Avenue.
Environment Greening is the main feature of the first phase of the renovation project. Beijing native plants have been selected to represent Chinese characteristics and Beijing style. To be specific, plants including Chinese pine, Chinese scholar tree, golden rain tree, Shandong maple, and Chinese flowering crab apple are planted in the high-quality green space. In addition, the renovated Xidan Cultural Square features ecological function and biodiversity of plants. Honey plants and fruit plants are planted to attract birds, and the number of species has appropriately increased. In order to improve the microclimate, spraying facilities for dust reduction have been added in the green space to adjust the temperature and humidity. The ecological environment has been improved, like an oasis in the city, so that visitors can feel like being in a fairyland.
The circular central sunken plaza is rebuilt from an enclosed underground into an open public space. The center of the space is the terraced elevation, strewn with pines and waterfalls. There are many paths between the plants to reach the center.
The urban forest, the first phase of the renovation project, will be open to the public in the end of September. And the construction of the center of the square, the second phase of the project, will continue to be carried out. The overall renovation project is expected to be completed by the end of 2020.