Chinese and Foreign Journalists Experienced Peking Opera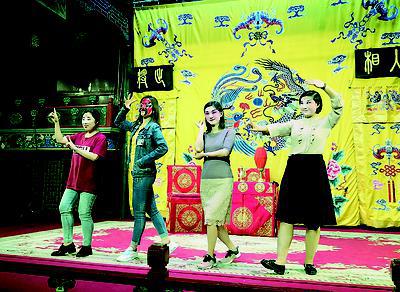 Nearly 30 Chinese and foreign journalists of 16 news agencies from 10 countries and regions went to Beijing Huguang Guildhall recently to experience Peking Opera culture, watch Peking Opera performances, and get closer to Peking Opera world.
Chinese and foreign journalists entered the Grand Theater of Huguang Guildhall and were first attracted by simple and elegant Beijing-style furnishings. The theater has two floors. Square tables and high-back chairs are orderly arranged on the first floor, facing the big stage. The reporters sat down and immersed themselves in Peking Opera world.
And then, a Peking Opera teacher appeared on the stage and told about the history of Peking Opera. Four foreign media reporters were invited to the backstage to experience Peking Opera make-up. Meanwhile, other reporters were invited to go up to the stage to learn Peking Opera's singing, monologue, acting and acrobatic fighting. For a time, Chinese and foreign journalists were busy experiencing Peking Opera and taking pictures on and behind the stage.
After the experiencing part, Peking Opera performers presented two Peking Opera shows, traditional classics "Farewell My Concubine" and "Havoc in Dragon Palace". The audience applauded from time to time, and the performance climaxed with gales of laughter and bursts of cheers. The event showed the charm of Peking Opera as an intangible cultural heritage and allowed more people to enjoy Chinese opera culture.