Extended Yi Jun Garden in Guang'anmenwai Sub-district, Xicheng District Opens Now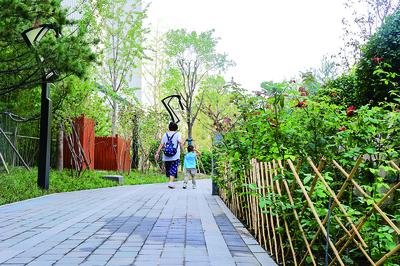 Yi Jun Garden, located in Guang'anmenwai Sub-district, Xicheng District, was opened in the second half of 2017. The small park has been extended recently and is open to residents now. The park covers a total area of nearly 8000 square meters with the additional area of over 3700 square meters. Yi Jun Garden, and Lin Pu Garden which has been extended at the end of June this year, became two green ecological boundary lines of Guang'anmenwai Sub-district.
Historically, this plot was once a place for horse racing, so the small park is named "Yi (leisure) Jun (horse) Garden". Regarding the design of the park, Yi Jun Garden retains, passes down, and interprets historical heritage with the theme of horse and flowers. Regarding the choice of plants, flowers such as hydrangea, echinacea, plantain lily and iris, herbs such as Chinese Iris, grass from Denmark and sedge, as well as trees such as begonias match with other perfectly, greatly enhancing the beauty of the park.
Regarding the construction of the park, it not only contains green landscape, but also features leisure facilities. In addition to seats and small spaces for activities, several sets of fitness facilities have been added. There are also swings, slides and sandpits for children.
In the past two years, Guang'anmenwai Sub-district has made great efforts to demolish illegal construction and re-build those buildings into leisure parks such as Lin Pu Garden and Yi Qing Garden. There are newly-added green space of more than 40000 square meters, so that residents can see the green through their windows and enjoy scenery on their doorstep.