Quaint Hutongs Renovated into Shared Spaces: Fayuan Temple Area Renewal Plan Features Creative Activities and Cases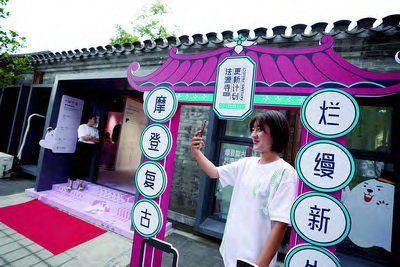 Traditional hutongs and fashionable toys add charm to each other; quaint siheyuans become shared spaces, where residents share kitchen, laundry room and living room. Activities held in the Fayuan Temple historical and cultural area of the Xicheng District sub-venue of Beijing Design Week 2019 are very creative, and various cases about sustainable development have wowed visitors.
The "Fayuan Temple Area Renewal Plan" event mainly focused on design's influence on city's innovation, and included four parts. About 20 programs such as exhibition, forum and workshop have been presented in Shaoxing Guildhall, Lanman Hutong, and South Banjie Hutong. Compared with traditional activities of the Design Week, this event is unique in that the entire Fayuan Temple area is used as a shared space organically combining scattered and limited old houses with urban services, cultural display, as well as cultural and tourism supporting facilities.
The organizers of the Design Week aim to build a shared residential area with sustainable development and create a wonderful new life, in order to make precious historical and cultural resources coexist and be inherited. They will constantly improve the renewal model and explore a new way for sustainable development, in which local residents, new residents and tourists can enjoy life together.