Xicheng District Staged Achievement Exhibition Show of Peking Opera Popularization Education Experiencing Event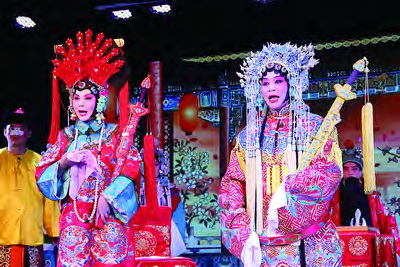 The "I Debut Today" performance of the "Follow Me" Peking Opera public welfare inheritance action was held at Xicheng District No.1 Culture Center recently, which is the achievement exhibition show of the Peking Opera popularization education experiencing event of 2019 Xicheng District Residents' Drama Exhibition Show. The "Follow Me" Peking Opera training class is organized by Xicheng District Bureau of Culture and Tourism, Xicheng District No.1 Culture Center, and Beijing Jixian Hongyi Cultural Center, providing people who love Peking Opera a chance to learn Peking Opera for free and perform on the Peking Opera stage.
The "I Debut Today" event included a morning session and an afternoon session. Each session has two parts. The first part is the "no make-up and no costume" performance. Students of the training class, the youngest of whom is only eight years old while the oldest 70-plus years old, performed what they most excel in, receiving warm applause from the audience again and again. The second part is the performance by performers in make-up and costume. After two months of training, every student has made qualitative progress in acting, singing and recitation, so they gave the audience a wonderful performance.
The training class invited Peking Opera artists, national first-class performers Zhang Ping and Yang Shaopeng to serve as the instructors of the qingyi group and the laosheng group. Two teachers were strict with the students and taught them according to the standards of professional performers. The students have had a more professional understanding of Peking Opera.
The "Follow Me" Peking Opera public welfare inheritance action is mainly for people who have never learned Peking Opera before, and people who are committed to inheriting Peking Opera, the national quintessence. The event includes a popularization lecture by Peking Opera master and an on-site audition, the "Star Training Camp" series of training activities, a Peking Opera competition and the "I Debut Today" performance. The "Follow Me" event aims to explore and build a new Peking Opera inheritance model that is led by the government, co-organized by social forces, and supported by experts, as well as features wide participation of the whole people.