Face Recognition Helps Taoranting Sub-District's Garbage Sorting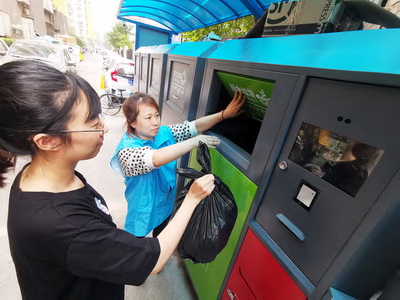 Changliuyuan Community in Xicheng District's Taoranting Sub-district has caught many residents' attention due to their use of intelligent technologies such as facial recognition and QR code scanning to facilitate people's garbage sorting. Waste is divided into four categories — recyclable waste, kitchen waste, toxic and harmful waste, and other waste.
Changliuyuan Community is the first pilot community in Taoranting Sub-district. The sub-district have placed three sets of intelligent bins in three spots within the community. A high-definition camera on each trash bin can automatically recognize a resident's face and open the trash bin. Before that, residents need to register an account in the community property company. The intelligent bin will automatically make a QR code sticker, a resident needs to stick the sticker to the corresponding garbage bag, and then he/she can throw garbage in the bin. In the future, Taoranting Sub-district will set up a points bin next to the trash bin. One drop of waste can gain one point on a resident's account, which can be used in exchange for daily necessities.
Taoranting Sub-district plans to introduce this kind of intelligent garbage sorting bins in other residential communities, such as the Taoran Beian Community. The sub-district aims to use the "waste in exchange for daily necessities" model to improve the accurate delivery rate and collection rate of garbage, improve the effect of waste reduction and resource utilization, and increase residents' participation.