"Candle Garden" Park Becomes a New Place for Leisure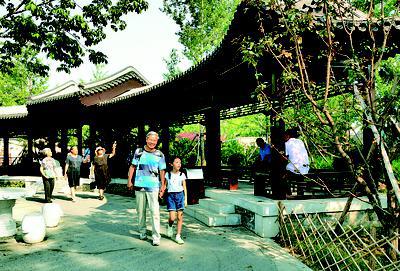 "It's so beautiful. This small park not only beautifies our environment, but also provides a good place for walk and chat. Cultural and sports activities organized by our community are also held here. It makes me feel happy," said Sun Xiuyun, a resident of Yongan Road Community, Tianqiao Sub-district, Xicheng District.
The small park mentioned by the resident is called "Candle Garden", which is adjacent to Zhushikou West Street in the north and the Yongan Road Community in the south. It's a green space for leisure, covering an area of about 3400 square meters. Residents living in three surrounding communities including the Yongan Road Community often go there to take a walk or take part in community activities.
The "Candle Garden" park was built at the beginning of this year. After further improvement, it opens to residents now. There are a number of native plants in Beijing planted in the park, including 141 trees such as Shandong maple and Chinese pine, and 138 shrubs such as Chinese flowering crab apples, flowering peach, and viburnum sargentii blossoms. The park's ground bricks are made from natural volcanic stone, which allows the rain to quickly flow down to the ground. Spraying equipment and lights are also installed in the park. The former will reduce dust when the air quality is poor.