3-Day Art Scene: Tianning No.1 Park Art Festival Held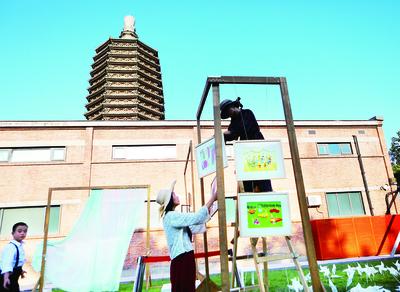 2019 Tianning No.1 Park Art Festival was held at Tianning No.1 Cultural and Technological Innovation Park from August 30th to September 1st. During the three-day event, children, artists, and photographers gathered together to create a 72-hour art scene, featuring cultural innovation, light and shadow show, children's musical instruments, urban gardening, and photography exhibition.
2019 Tianning No.1 Park Festival takes "City, Friendship, Growth" as its theme, and is one of the sub-venues for the Design Hop program of 2019 Beijing Design Week.
The Art-titude Forum was held on August 30th, with the theme of "Building a Friendly City". Guests in architecture, education, medical care, public welfare, and art fields were invited to discuss the theme and look forward to a bright future.
The children's theme camp was of high popularity. This cultural innovation market was set up in front of the Small Theater of Tianning No.1 Park. It included thought lab, city garden, children's bookstore, etc., attracting children to do experiment with various materials and plan the future city on the road map.
The "Senior Friends" section was a large-format photographic art exhibition. Large-format camera and black and white films were used to record several old people who have witnessed China's changes in past 70 years, and their grandchildren. Photos were exhibited in human shape.
During the festival, artists used industrial materials remained in Tianning No.1 Park for artistic creation, integrating the history with the present. Those innovative works will be exhibited in the park until the end of October.