45 Bookstores Showed Their Characteristics at "Beijing Night of Bookstores"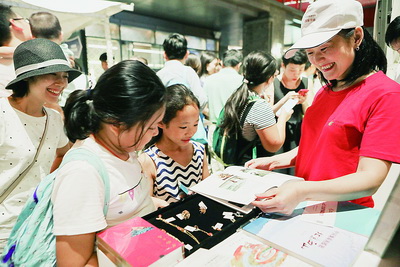 The first "Beijing Night of Bookstores" event was held at Beijing Fun, Xicheng District recently. 45 bookstores from all districts of Beijing set up stands in Sanfu Street to take part in an outdoor book fair. On the evening of that day, Beijing Fun acted as the main venue, and 25 bookstores all over Beijing hosted night events as well.
Beijing's 45 bookstores with their own characteristics gathered in Sanfu Street to showcase their own ideas, features and cultural innovation products. A "message wall" was also set up to allow readers write down what kind of bookstore they love.
At Beijing Fun, reading activity, speech, drama, vinyl music concert, modern dance performance and other programs were staged, featuring immersive experience and interaction with readers. Businesses who cooperate with Beijing Fun, such as Page One bookstore, held reading-themed cultural innovation exhibition, small-scale talk, forum, dialogue, parent-child reading activity, and classic script recitation, in which reading experts and readers communicated with each other on various crossover topics.
The 25 bookstores, as sub-venues, held reading activities on the same night, including good books exchange, night reading sharing activity, interesting objects sharing activity, traditional culture experiencing activity, photography activity, and movie viewing activity.
As one of the activities of the 17th Beijing International Book Festival, the First "Beijing Night of Bookstores" event is jointly sponsored by Beijing municipal government and Beijing Xicheng District government.