Interactive and Experiencing Exhibition at Seasons Place Shows Charm of Color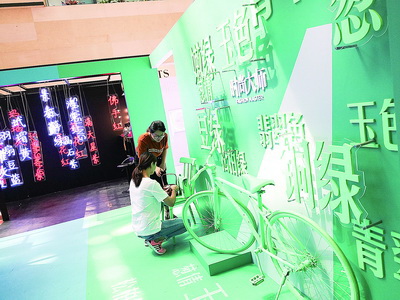 Chinese Color Interactive and Experiencing Exhibition kicked off at the Seasons Place, Financial Street, Xicheng District, Beijing recently. The event not only displays eight typical Chinese colors, cyan, green, white, brown, black, purple, gold and red, but also exhibits cultural innovation works created by internationally renowned Chinese designers.
Besides fine design works by more than 10 designers, the exhibition also includes a flash shop offering white shoes for doodling. Moreover, well-known designers will go to the Seasons Place to participate in related activities, and fashion bloggers will also appear in theme salons to communicate with the public.
With the theme of "Autumn charm, Chinese style", Chinese Red has become the theme color of the series of interactive and experiencing activities at the Seasons Place.
There are more than 800 fashion brands at the Seasons Place currently. In the past year, the shopping center has held 120 cultural events, all of which presented fashion lifestyles and met the consumption need of the Financial Street commercial area, Lai Youqing, executive director and general manager of the Seasons Place, said. Next, the experiencing store at the shopping center will launch more events.