2019 Beijing Xicheng District Hutong Cultural Festival Held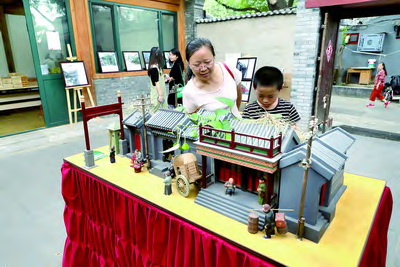 The opening ceremony of Beijing Xicheng District Hutong Cultural Festival 2019 kicked off in Beijing on August 23. The seven-day cultural festival included hutong culture exhibition, intangible cultural heritage exhibition and other experiencing activities held in Cuzhang Hutong, Yongqing Hutong and Xizhuan Hutong.
With the theme of "Intangible Cultural heritage @ Hutong — Our Festival", the festival had five parts, including intangible cultural heritage exhibition, meeting room, master workshop, interactive community, and intangible cultural heritage academy. The intangible cultural heritage exhibition showcased works by six representative inheritors of Beijing city-level intangible cultural heritage items. The meeting room offered opportunities for residents and tourists to meet and communicate with each other. The interactive community invited famous intangible cultural heritage masters to discuss with the citizens on relations between intangible cultural heritage and hutong. The intangible cultural heritage academy prepared cultural books, video works and exhibitions for visitors.
The organizer arranged a theme experience day on each day of the festival. On the theme day, foreigners, media representatives, experts, primary school students and college students were invited to visit hutong and experience hutong culture. They enjoyed the long history and profound humanistic charm of Beijing's hutongs.