Traditional Chinese Style of Landscape Beautifies Guang'anmennei Street, Xicheng District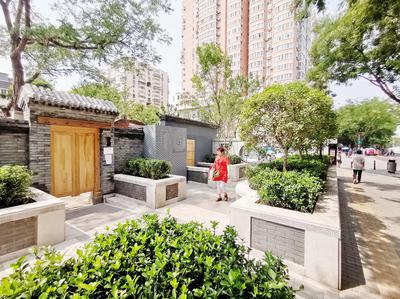 Leisure corridor, convenience seats, ornamental trees, landscape pieces, nightscape lighting, wall with a Chinese character "Fu" (good fortune), and blue bricks and gray tiles constitute the good look of the Niujie part of Guang'anmennei Street, as the landscape improvement project was completed there recently.
According to the needs of residents and the overall planning requirements of Guang'anmennei Street, this improvement project was carried out to repair the buildings along the road, restore the original layout of the buildings, conduct vertical greening, plant landscape trees, set up landscape pieces, and install facilities for leisure and convenience, which will be convenient for residents to walk, chat, and take excise.
The project included concrete ground pavement of the public area of 900 square meters, setting up landscape signs, and adding an ancient-style arched door at the entrance. In addition, the buildings along the road have been renovated with wooden doors and windows, and blue bricks and gray tiles. The facilities along the road have also been upgraded. For example, the cabinets for power distribution boxes and air-conditioners have been decorated, so that they have both decorative and safety protection functions.
Green space of about 450 square meters has been added along the 350-linear-meter-long road. Flowers, trees and shrubs such as Shandong maple, midget crab apple trees, Chinese boxwood, Chinese wistaria and Chinese rose have been planted, and antique landscape lights and lighting belts have been set up as well.