Xihai Wetland: Aquatic Life Eco-Park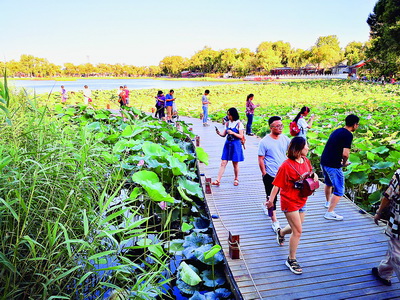 As it's midsummer, more than 100 acres of lotus flowers are blooming in the Xihai Lake, Shichahai. There are more than 30 species of lotus and water lily planted in the Xihai Lake, various in color and shape, according to the relevant person in charge of Xicheng District Bureau of Forestry and Parks. Different from ordinary parks, Xihai Wetland Park has no fences or walls. It is the only urban wetland in the core area of Beijing, and it is also a natural "oxygen bar" on the doorstep of nearby residents.
The Xihai Lake has an aquatic planting area of about 20000 square meters, including the lotus planting area, the calamus and reed area, as well as 500 square meters of wild duck island and two ecological floating islands covering about 800 square meters. According to preliminary statistics, there are more than 50 species of aquatic plants, including more than 30 species of lotus and more than 20 species of other aquatic plants, such as calamus, reed, broadleaf arrowhead, and water chestnut.
Xihai Wetland Park also has 120 smart light poles with functions such as smart security video monitoring, WiFi, mobile phone charging, people flow monitoring, municipal facilities monitoring and smart terminal display screen, together with 1082 IoT monitoring points, achieving full coverage of the wireless network in the whole area. Operators of the park can conduct smart management of visitors, facilities, and emergency in the Shichahai area through the data center and the IoT visual management platform.