Higher Quality Service and More Beautiful Environment: Niujie Sub-District's Caiyuan Beili Hutong Got Upgraded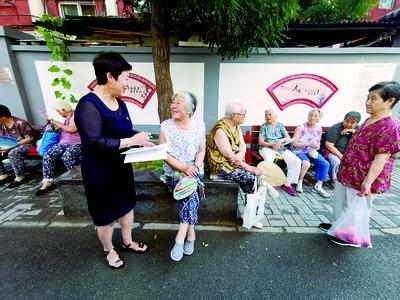 "Our Caiyuan Beili Hutong has been upgraded. I feel very comfortable at heart because the environment is neat and tidy," said Ms. Du, who lives in No. 12 Building, Caiyuan Beili Hutong. Actually, not only the environment but also the community senior care service and the convenience service have been improved.
Caiyuan Beili Hutong is about 315 meters in length, and borders Zaolinqianjie Street to the south and South Xian'ge Street to the east. The L-shaped hutong is divided into east-west section and north-south section. In April this year, Niujie Sub-district started the upgrade project of Caiyuan Beili Hutong, with focuses on the renovation of outside façades of street buildings, the upgrade of tree grates and flower grates, and the pavement of roads. The project has been completed in July.
Senior care service is a major feature of Caiyuan Beili Hutong, and the upgrade project highlights convenience services. The opening hours of the resident living service center have been extended from the original half-day to 7:00 pm, the number of goods has been increased, and delivery service is provided for elderly people. A dining area for senior residents is opened at the convenience staple kitchen of the resident living service center. 10 sets of leisure seats have been added along the hutong, on which residents can have a rest. In addition, the upgrade of public restrooms has also been completed and they are open for use now.
Moreover, community volunteers will regularly carry out volunteer service activities to protect the hutong environment, such as arranging bicycles and maintaining green spaces.