Newly-Opened Beer Gardens "Lighten" Night-Time Economy of Beijing Financial Street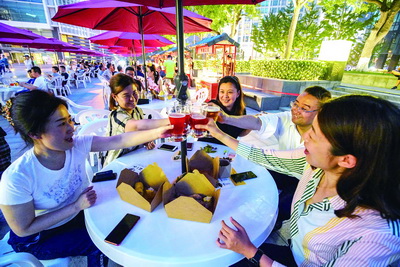 Chinese barbecue, German cuisine, American delicacy, dishes for vegetarian, craft beer, all kinds of soft drinks, chilled juices... delicious food from all over the world meet there. As one of the important measures to improve the life service of Beijing Financial Street, two beer gardens open to the public at the Fountain Square of the Seasons Place and the Chan Garden of the Westin Beijing Financial Street. The one at the Fountain Square is open from July 19th to September 15th at 18:00 to 24:00, while the one at the Chan Garden from July 15th to September 15th at 18:00 to 22:00.
Beijing launched 13 specific measures to develop the "night-time economy" recently. In recent years, Xicheng District has started from the details to create a high-grade, international Financial Street, and at the same time a colorful, ordinary people-friendly and close-to-life Financial Street. Besides opening the beer gardens, the Financial Street has gradually improved regional catering service and compiled a dining map of the Financial Street. At present, the Financial Street is adding more places for breakfast since a mobile breakfast van started trial operation in April. Moreover, time-honored restaurants of Xicheng District cooperate with the "Life Financial Street" App to offer meal delivery service. Beijing Financial Street will further explore public resources to make people in the Financial Street have a more comfortable working and living environment.