Capital Museum's "I am a Little Photographer" Summer Camp Opens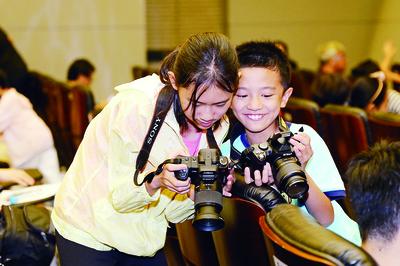 The 6th "I am a Little Photographer" summer camp was officially launched recently, co-organized by the Capital Museum, Xicheng District Women's Federation and Xicheng District Women and Children Development Center. Nearly 200 children and parents from 15 sub-districts of Xicheng District participated in the launching ceremony.
At the launching ceremony, the organizers invited a culture lecturer and a senior photographer to give lectures on "Witness: the Central Axis in My Eyes". The two experts inspired the children with the culture of the Central Axis of Beijing and photography skills respectively. They displayed pictures of Zhengyangmen, Tiananmen, the Forbidden City, the Jingshan Park, the Shouhuang Hall (Hall of Imperial Longevity), Wanning Bridge, and the Drum Tower and the Bell Tower to tell historical changes of the Central Axis, allowing the children to have a deeper understanding of Beijing's architecture and greatly arousing their interest in photography.
Projects that support the application of the Central Axis of Beijing for a UN World Cultural Heritage site have been launched since 2012. After several years of hard work, the buildings along the Central Axis and the surrounding environment have changed a lot. The organizers hope that this event will attract children with their parents to visit the Central Axis, to shoot those unique buildings, to record stories of local people living along the Central Axis, to feel the charm of the ancient capital, to witness the changes in their motherland, and to pay tribute to the 70th anniversary of the founding of the People's Republic of China.