Time to View Lotus Flowers in Xihai Lake, Xicheng District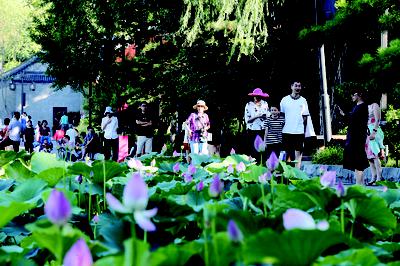 Lotus flowers in Xihai Lake, Xicheng District, have entered their flowering time. The artificial spraying facility creates a dreamlike paradise in the Xihai Wetland Park. The scenic area close to water covers 4000 square meters. Standing on the edge of the viewing platform, you can reach the lotus leaf on the water surface with your hands.
In order to give visitors a better viewing experience, in addition to increasing the number of scenic spots, the park has also widened narrow walkways, from the original 70 cm to nearly two meters, so that tourists will have the feeling of being on the water.
Moreover, more than 40 sets of benches have been installed around the Xihai Lake. Some of the benches are set up in the wooden frame on the side of the walkways, adjacent to water.