2019 Xicheng District "Summer of Popular Science" Launched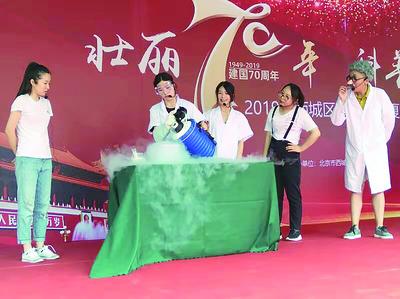 Xicheng District Association for Science and Technology held the launch ceremony of 2019 Xicheng District "Summer of Popular Science" at Grand View Garden recently.
The launch ceremony started with a "How much do you know about air" popular science performance, which showed some interesting cases of the application of air. And the event climaxed with a "Chemical Show", which some of the audience went up onto the stage to participate in.
This year's "Summer of Popular Science" will last until September. More than 100 popular science activities, such as science and technology Q and A activity, simple assembling activity of AI robot, health technology demonstration activity, will be held in Xicheng District's sub-districts and communities. Moreover, popular science brand activities such as "Voice of Spring" popular science reading activity, "Simple life and unlimited creativity" activity, and "Popular science for the elderly" activity will also be held during this summer.