Visiting City Revival Book Bar in Xicheng District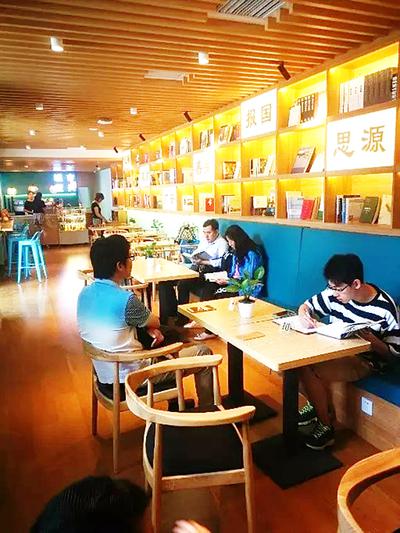 City Revival Book Bar, located in No.2 A, Changchun Street, Guang'anmennei Sub-district, Xicheng District, is a place for visiting, reading, film watching, gathering and drinking coffee. It has become a popular reading space, especially winning fame online, shortly after its opening.
City Revival Book Bar, just as its name implies, focuses on the protection and revival of the city, so readers can find, read and use books on related subjects there. The collection mainly covers cities and buildings, and the collection of Chinese and foreign books on urban architecture is a major feature of the book bar. Books include both picture books popular with children and professional architecture books for adult readers.
The most eye-catching thing of the book bar is the panoramic sand table model of the Guang'anmennei area. The sub-district-level sand table, which is produced in a ratio of 1:1000, allows the visitors to see the existing social resources and historical and cultural resources in Guang'anmennei Sub-district. People can see Sanmiao Street and Laoqianggen Street, two of Beijing's oldest hutongs, Changchun Street, most busy road in the Liao Dynasty (916-1125) and the Jin Dynasty (1115-1234), state-level cultural relic Baoguo Temple, city-level cultural relics Changchun Temple and Ancestral Hall of Yang Jiaoshan, district-level cultural relic the Former Residence of Shen Jiaben, and other cultural relics the Former Residence of Gong Zizhen, Taiyuan Guildhall, Dongguan Guildhall and Guanghui Temple.