Paintings Displayed to Show Beauty of Beijing's Central Axis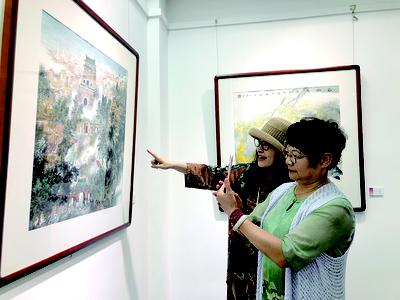 To mark the 70th anniversary of the founding of the People's Republic of China, the "Visiting the Central Axis of Beijing and Drawing the Old Capital's Scenery" event cum the 10th "Flowers of Spring" painting exhibition opened at the Beijing Yidege Art Gallery recently, supported by Xicheng District Bureau of Culture and Tourism and hosted by Xicheng District No.2 Culture Center. Nearly 100 pieces of works showcase the great changes Beijing has undergone over the 70 years.
The exhibition has received 400 entries by professional painters and amateurs from Beijing and all over the country. 95 works are selected to be displayed at the exhibition, including Chinese painting, oil painting, print, watercolor painting and sketch. They have various styles, distinct themes and splendid colors.