Financial Street Held Reading Carnival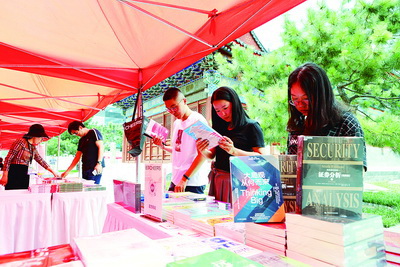 The launching ceremony of the 2019 "Reading Carnival in Financial Street" Financial Street Book Fair was held in Beijing Financial Street recently, guided by Xicheng District Bureau of Culture and Tourism, and co-hosted by the Financial Street Sub-district of Xicheng District, Financial Street Books, Beijing Financial Street Chamber of Commerce and Beijing Financial Street Charity Foundation. Nearly 100 reading enthusiasts from nearly 50 financial institutions and large enterprises and groups attended the launching ceremony.
The book fair featured public welfare, openness and social participation. Reading lecture, book sale, cultural and art exhibition and public welfare activities were held to improve the quality of public reading and increase interactive elements.
In addition to the launching ceremony and the reading lecture, the three-day reading carnival also included book sale and traditional culture experiencing activities held at the Du Chenghuang Temple Square in the Financial Street. It is worth mentioning that the organizers held a parent-child charity bazaar in the square. Children donated the proceeds from the charity sale to Beijing Financial Street Charity Foundation, and the foundation will give the money to schools in poverty-stricken areas.