Activities Held in Xicheng District to Welcome Dragon Boat Festival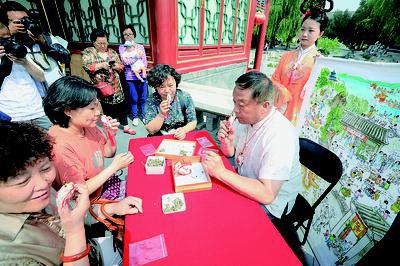 As the Dragon Boat Festival is approaching, dragon boat race, Zongzi (glutinous rice wrapped in bamboo leaves) making activity, sachet making activity and other activities were held in Xicheng District to promote traditional folk culture and create a festive atmosphere.
Shichahai Sub-district held the 2019 Dragon Boat Race Invitational. 60 dragon boat teams competed in Houhai Lake. It is worth mentioning that there is an amateur dragon boat team from Kaohsiung, Taiwan. In addition, foreigners from 17 countries including Nigeria, Australia, Afghanistan, Mexico, Portugal, Laos, Myanmar, Mongolia, Jordan, and Peru were invited to experience the dragon boat race. And foreigners from 28 countries watched the race.
Beijing Grand View Garden launched the Dragon Boat Festival theme celebration, including sachet making, colorful rope knitting and other handicraft experiencing activities, cultural performance, and a show of classic songs in the Dream of the Red Chamber together played by Guzheng and guitar.
Chunshu Sub-district held a themed activity in the Small Theater of the Residents' Cultural Home. More than 50 residents gathered together to make sachets.
Niujie Sub-district and Xicheng District No.2 Library co-held a Zongzi wrapping contest to celebrate the Dragon Boat Festival. Residents sat together and wrapped Zongzi, to celebrate the traditional festival and get neighborhood relations closer.