Xicheng District Takes Part in 2019 CIFTIS and ICCIE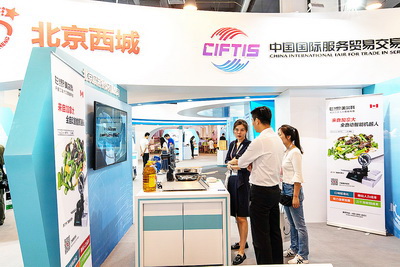 China International Fair for Trade in Services (CIFTIS) 2019 kicked off at the China National Convention Center on May 28. With the theme of "Science and Technology Create a Better Life", Xicheng District showcased its achievements in financial technology innovation at this grand event, the reporter learned from Xicheng District Bureau of Commerce. And the Financial Street Forum and the 14th China Beijing International Cultural and Creative Industry Expo (ICCIE)) were also held as branch events of CIFTIS 2019. Xicheng District hosted the Financial Street Forum and related themed exhibitions. It also took part in this year's ICCIE by setting up an exhibition area with the theme of "Chinese New Life, Urban Renewal and Cultural Renaissance".
In the main venue of the China National Convention Center, Xicheng District displayed "technology and culture", "technology and life", "technology and services", "technology and security", and "opening-up of the service industry in Xicheng District" six parts in its exhibition area of 420 square meters. 19 companies including the International Center for Creativity and Sustainable Development under the Auspices of UNESCO, Beijing City of Design Development Co., Ltd. and LKK Innovation Design Group participated in the event, and intelligent cash register robot, winning works of the Red Star Design Awards and the Red Dot Awards, and the siheyuan model displaying technology's protection for the old city were unveiled in the exhibition area.
The 2019 Annual Conference of Financial Street Forum undertaken by Xicheng District took "Deepening Supply-Side Structural Reform in the Financial Sector and Promoting High-Quality Economic Development" as its theme, and included a main conference and three sub-forums. In addition, Xicheng District held a theme exhibition on financial services at the Beijing Exhibition Center. In the exhibition area of 8700 square meters, exhibition and display activities with distinctive theme and rich content have been held.
The 14th China Beijing International Cultural and Creative Industry Expo opened on May 29 throughout June 1 at the China International Exhibition Center. Xicheng District will mainly showcase its distinctive cultural and tourism resources in the 540-square-meter exhibition area, as well as 8 city-level cultural innovation parks such as Tianning No. 1 Cultural and Technological Innovation Park, Beijing Cultural Innovation Park and Xinhua 1949 Cultural Innovation Park. Holographic experience, intangible cultural heritage items, distinctive reading space, digital fabrication room, painting robot, VR experience and other projects will also be displayed.