Spring-Themed Activities Held at Grand View Garden during May Day Holiday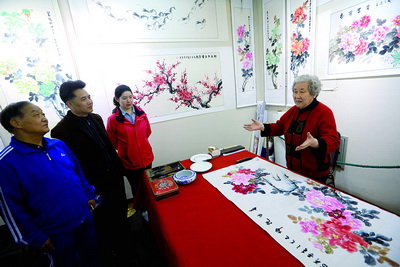 During the May Day holiday, the Grand View Garden, located in Xicheng District, Beijing, held a series of Spring-themed activities, showing scenery of the park and the artistic charm of the famous Chinese novel Dream of the Red Chamber.
At the exhibition hall on the first floor of the Zhuijin Pavilion, built for the homecoming imperial concubine in the Dream of the Red Chamber, a fine peony-themed painting exhibition was held, featuring nearly 50 peony-themed ink and wash paintings and plum, orchid, bamboo and chrysanthemum-themed Chinese Gongbi paintings.
The Yinzhiguang Recitation Art Troupe held a spring poetry recitation in the park, showing respect for all the laborers who work hard in ordinary positions.
Public cultural performances, which are well popular with the public, were also staged at the Grand View Garden during the holiday. Beijing Acrobatic Troupe, Beijing Quyi Troupe, Beijing Century Philharmonic Orchestra, Beijing Baihua Shenchu Art Troupe, Beijing 1998 International Youth Art Troupe, Beijing Dance Drama and Opera Troupe and other professional performance groups presented wonderful performances to the audience.
In addition, the Grand View Garden launched the "Spring Tour of Grand View Garden" spring-themed photography and video works collection event.