First Mobile Breakfast Van Debut in the Financial Street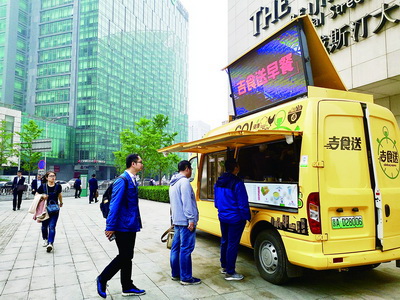 Recently, the first mobile breakfast van made its debut in the Financial Street and was put into trial operation at the northeast corner of the Westin Beijing Financial Street hotel. Early in the morning, the eye-catching van attracted the attention of many office workers and nearby residents.
The quality improvement of the Financial Street area is a key livelihood work for Xicheng District government this year. The survey of the dining environment in the Financial Street area shows that office workers have higher requirements for the convenience and richness of dining in this area, and there is still much room for improvement in the breakfast service.
In order to meet the breakfast needs of people in the Financial Street area, the relevant government departments have made research about the breakfast service, and finally selected the mobile breakfast van to offer service in the Financial Street area, which can both guarantee the quality of breakfast and move at any time.