Colorful Flowers Placed in Xicheng District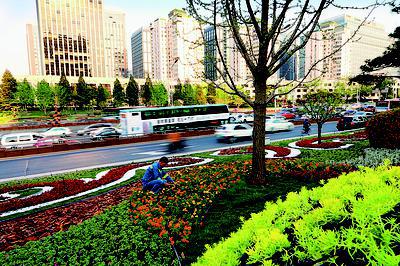 Recently, Xicheng District launched the 2019 spring flower placement, to welcome the second Belt and Road Forum for International Cooperation and the Peking International Horticultural Exposition. The placement work is planned to be completed by the end of this month.
Xicheng District will mainly place ground-planting flowers, with appropriate placement of flower containers, flower boxes, small flower beds, flower piles and theme flower beds. Flowers will be placed in Xidan, Financial Street, Shichahai and other major areas, and along the Second Ring Road and the Third Ring Road (Xicheng Section), Yuetan North Street and Yuetan South Street, Qianmen West Street and other major roads and streets.
This year, the regular flower placement in Xicheng District covers about 18000 square meters. In addition, 5 groups of theme flower beds as well as ground-planting flowers of about 12600 square meters are planned to be placed for the public to view.