Over 48000 Citizens in Xicheng District Took Part in 35th Voluntary Tree Planting Event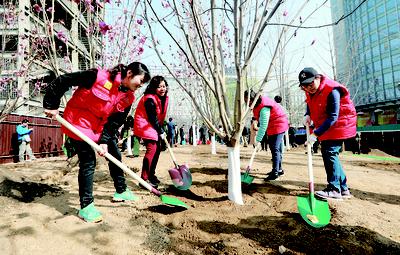 Recently, Xicheng District organized citizens to take part in the 35th Capital Voluntary Tree Planting Event in the green of the Beijing Financial Technology and Professional Service Innovation Demonstration Zone (Xicheng District) in Xizhimenwai South Road, Xicheng District. The theme of this year's event is "Fulfilling the obligation to plant trees and building a beautiful China together".
On the site, people shoveled soil, planted trees and emptied water buckets. The newly-planted 100 ginkgo, acer truncatum and other seedlings add green to the demonstration zone. The Office of Xicheng District Greening Commission presented certificates to those who took part in the tree planting event.
In the past few days, Xicheng District has organized theme activities in various forms, such as tree planting, tree conservation, promotion on protection of tree, and gardening lecture, in its 15 sub-districts, 10 green spaces in parks, 19 horticultural culture promotion centers and 2 online voluntary tree planting bases. More than 48000 people participated in the tree planting event, planting 3600 trees, cleaning 49500 square meters of green spaces, and conserving 98000 trees.
In addition, Xicheng District will continue to increase green area this year, including 1.2 hectares of mini green spaces near the Lianhuachi East Road, the southeast exit of Hepingmen Subway Station, No. 241 Xizhimennei Street, the north side of the Lipuyuan Urban Forest in Guang'anmenwai, and the northeast corner of the Ping'anli intersection.