Come Enjoy Winter Fun in Beihai Ice Rink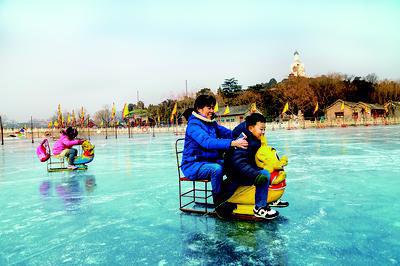 The recent cold weather in Beijing raises public enthusiasm for winter sports. After thorough inspection, the Beihai Ice Rink is open to citizens and tourists. The over-one-hundred-year-old open ice rink brings Beijingers countless good memories, where many romantic stories happened. Today's Beihai Ice Rink is even more important for domestic and foreign tourists to fully experience culture of imperial garden and enjoy winter fun.


Located in the Lotus Lake of Beihai Park, the area of the ice rink doubled from last year to 20000 square meters. Looking ahead, carefully-arranged imperial dragon flags around the ice rink are waving in the wind, attracting people to have fun there. The ice rink is divided into four areas, the ice bike and ice car area, the skating area, the ice bumper car area and the drifting car area. In order to meet the needs of tourists for entertainments in the ice, the ice rink is equipped with a variety of ice facilities, including 350 cartoon-image-shaped ice cars, 150 traditional ice cars, 100 ice bikes, 20 ice bumper cars, and 300 pairs of ice skates. And the drifting car area is newly added this year, providing 60 ice drifting cars for both adults and children. This kind of car can be controlled by left and right brakes during riding.


In order to carry forward traditional Chinese culture and reproduce the winter activity in the ice of the imperial garden, Beihai Park plans to cooperate with Xicheng District Bureau of Sports to present an "ice show", so that citizens and tourists can know history and experience culture.


In addition, in order to welcome the 2022 Winter Olympic Games and popularize knowledge of ice and snow sports to the public, more than 10 pieces of display boards about the Winter Olympics are set up in the South Gate of Beihai Park. And professional skating coaches are hired to teach skating every Saturday and Sunday.


Opening Hours: 9:00 - 17:00