8th Taoranting Ice & Snow Carnival Opens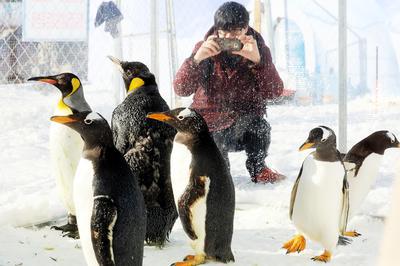 The 8th Taoranting Ice & Snow Carnival opened in the south lake of Taoranting Park on December 23. After Beijing won the bid to host the 2022 Winter Olympics, Beijing citizens are actively participating in ice and snow sports. In order to create conditions for tourists and citizens, to integrate ice and snow sports with people's daily life and to create a rich atmosphere for fitness in Beijing, Taoranting Ice & Snow Carnival keeps improving, offering tourists and citizens a ski resort in the central area of the capital.


Ski Resort in Central Area of Capital


One of the highlights of the carnival is the "Snowy Mountain", a 10 meters high, 60 meters wide and 120 meters slope long ski field, where a children ski training base is set up with professional ski equipment and 50 professional ski instructors providing one-on-one guidance. And a ski equipment hall is also set up, providing snowshoes, snowboards, snow sticks and blankets for free.


There is a Winter Olympics display area in this year's carnival, where tourists can learn knowledge about the Winter Olympics such as the bidding process, latest news, host cities, etc.


Colorful Ice and Snow World


There are "flying saucers on snow" area, penguins viewing area, snow amusement area, and snow area in the carnival. In addition to flying saucers on snow, mini tanks on snow, yo-yo balls on snow and other popular amusements, there are also ATV (All-Terrain Vehicle) on snow, snow plant, super sports car on snow, totaling more than 10 kinds of snow amusements. In the snow area, visitors can visit exhibition on snow and ice sports and the polar region, see penguins from the Antarctic, and experience snow sports, ice maze and other snow activities.


Another highlight of the carnival—penguins appear again this year. Visitors can have a close interaction with 2 king penguins, 2 rock-hopper penguins and 4 Gentoo penguins, and also know more about penguins from the Antarctic.


Cultural Innovation Products on Sale


As Taoranting Ice & Snow Carnival has become a winter brand in Beijing, an exhibition and selling area of cultural innovation products is opened in the shop at the south gate of Taoranting Park. Ice and snow-themed products including keychain, U-disk, dolls, cups, Rubik's Cube, hand-painted stones are very popular with children, so that children can bring good memories of ice and snow back home.


The opening hours of the carnival are 9:00 to 17:00 every day (the exact date depends on the weather conditions). Visitors can buy tickets on both south and east banks of the ice and snow field.