Agreement signed with Pasadena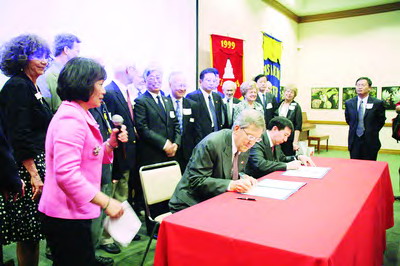 Mayors of the two parts signed agreement.
April 5th of this year marked the 10th anniversary of the friendship between Xicheng district and Pasadena city of United States. The celebration activity was held in Pasadena library park. Xicheng district mayor Zhang Jiandong and mayor of Pasadena signed the continued agreement of the two sister cities.
Mayors of Xicheng district and Pasadena city recalled the exchanges of culture, economy and other aspects between the two sister cities since 1999. This year"s agreement further emphasized education cooperation and exchanges between schools from the two parts.
Jinsheng folk orchestra from Financial Street community school also went to Pasadena and gave performance to citizens there.